Read the articles and guides to learn more about DVD copying and DVD ripping
All Products
About DVDSmith
Expert Recommend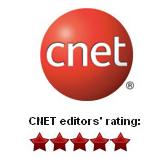 Popular Topics
Articles & Guides
Make 1:1 ratio copy of protected dvds on Mac OS, Snow Leopard
Do you like watch movies? I think your answer is definitly yes! Most people like to watching dvd movies instead of relaxing,especially during our holidays.But have you ever been frustrated by the scratched DVDs? So it is necessary to find an active and effective way to solve the problem.Backup your dvd movies is one of the best way to keep the DVDs safe. But so many softwares in front of you,it 's so difficult to choose which software would be best for you.But another problem raised that many softwares doesn't work on copying the DVD movies,what's going on?You will probably be confused by the fact.The truth is that most dvds copy are protected.Especially the latest DVD movies.
Backup Protected DVD Movies to Hard Drive on Mac
The latest copy protections prevent those DVDs from ripping or backing up. However, solution is never far behind. DVDsmith Software could help you out.They are designed for Windows and Mac OS users respectively to Make 1:1 ratio copy of protected dvds on Mac OS, Snow Leopard.you can easily get your DVD copies which remain 100% same to the original DVD movie Discs. DVDsmith is a professional DVD decrypter and DVD ripper software which can backup protected DVDs to Mac as sMP4, MOV, iTunes video formats. You could also transfer the DVD videos to iPhone, DVD to iPod, DVD to iPad, DVD to Apple-TV, DVD to PSP, etc.DVDsmith for snow leopard also allows you to remove DVD menus, select subtitles and audio tracks, or clone main movie separately to create customized DVD.What's more, DVDsmith for snow leopard can copy DVD with any region code.
How To Make 1:1 Ratio Copy of Protected DVDs on Mac OS
Then how to backup DVD movies to hard drive or copy DVD to your Mac OS? Below are the basic steps for Mac users to copy DVD.
Step 1. Inserting DVD disc
Insert the DVD disc you want to backup in the DVD-ROM of your Mac, and then you should wait a second for Mac reading the data of the disc.
Step 2. Choosing backup mode
There are two backup modes for you to choose.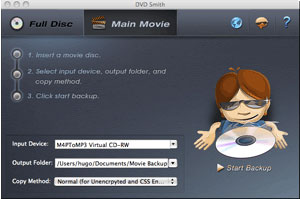 Full Disc: This will backup all contents from the DVD, including main movie, bonus features, and maybe some other extra video clips.
Main Movie: This will only backup the main movie from the DVD, excluding bonus features or other extra video clips.
(Note: see the difference between these two modes)
Step 3. Selecting input device, output folder, and copy method
Input Device: select correct DVD device from Input Device dropdown menu.
Output Folder: choose a place that has enough space to store output file.

Copy Method: there are two copy methods for you to choose:

Normal (for Unencrypted and CSS Encrypted DVD):
when Normal copy method is used, the program will focus on scanning the main movie title in a DVD. If there is bad cell in the main movie title, a prompt window will come up asking you to choose Enhanced copy method.
Enhanced (for Encrypted and CSS Encrypted DVD):
when Enhanced copy method is used, the program will try to read out as much titles as it can be detected in a DVD, and it will then copy all detected titles. Particularly, the program is able to identify the main movie during the scanning process, and skip all bad cells during copying process.
It's recommended to use the Enhanced Copy Method to backup the most recent DVD movies like G.I. Joe, especially for Disney DVD movies.
Step 4. Starting backup
When setting finished, click Start Backup button to get it copied on your Mac.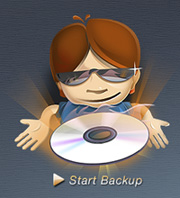 Now, you can enjoy the movie on your Mac!
System Requirements
Best DVD Copier compatible with Mountain Lion, Lion, Snow Leopard, Mac OS X 10.8, Mac os x 10.7, 10.6
Processor – PowerPC G4/G5 or Intel processor
Available HD space – 100 MB or more
ROM drive – at least one DVD-ROM drive
Display – Super VGA (800 x 600) resolution or higher
© 2005-2017 DVDSmith Inc., All Rights Reserved.