About DVDSmith
Top Recommended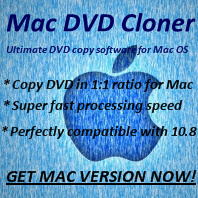 Q: Does Any DVD Cloner Platinum support external burner?
A:Yes, Any DVD Cloner Platinum can support external DVD burners. External burners have better conditions than internal burners especiall that with laptops. Any DVD Cloner Platinum supports external burner very well.
DVD Burner: A DVD burner is a device used to encode or "burn" information onto a blank DVD. A DVD is a form of storage media 12 cm (4.72 inches) or 8 cm (3.15 inches) across that can typically hold 4.7 gigabytes (GB) of information, enough to hold a three-hour movie at high quality, or ten TV episodes, or about 75 hours of .mp3 files, or roughly 15 hours of video in the lower-grade .avi format. The DVD is thought of as the successor to the conventional CD (compact disk). Common formats include DVD-R and DVD-RW, a rewritable version of the DVD. - wisegeek
Copyright © 2005-2022 DVDSmith Inc., All Rights Reserved.