About DVDSmith
Top Recommended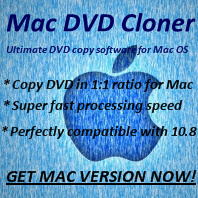 Q: Can I shrink the DVD-9 movie to DVD-5 disc with Any DVD Cloner Platinum?
A: Yes, you can. Make sure you choose "Main Movie" and set "DVD5" as "Target Size". "Main Movie" is the longest title of the whole DVD, to make sure blank DVD5 is with sufficient space for DVD9. Need to confirm DVD5 is selected as "Target Size" so Any DVD Cloner Platinum organizes you need to shrink a DVD9 movie DVD to a blank DVD5.

Copyright © 2005-2022 DVDSmith Inc., All Rights Reserved.