About DVDSmith
Top Recommended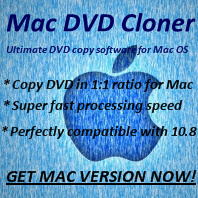 Q: What can I do if the computer says MFC Application has stopped working?
A: Firstly, please uninstall the program and delete all related files of the program, then reinstall the latest version.
NOTE: Besides uninstalling the program via Control Panel, you can find out a folder named with the program's name via Hard Drive Disc C—>Documents and Settings—>click current user folder—>My Documents, then you can find out a folder named by Any DVD Cloner Platinum (for example), please do remember delete it. Then install the latest version of Any DVD Cloner Platinum(it is advised to install the program to another disc).
It is advised to close down anti-virus system,you can launch it after the completion of installing process.
Besides,please also run the program as administrator by right clicking the program icon, then choose "Run as administrator" option, then register the program with your keycode again.
You can also click "start", and find the software, right click it —>Properties —>Compatiblity and check Run as administrator option if you are running windows 7 system.
Thirdly, you can also go to Microsoft official website and download a program named vcredist.
The following solution might also help. http://support.microsoft.com/kb/929135/en-us.
If you have any questions or problems when using the program, please contact us via support [at] dvdsmith.com (replace [at] as @ before sending message)for more advice.
Copyright © 2005-2022 DVDSmith Inc., All Rights Reserved.