About DVDSmith
Top Recommended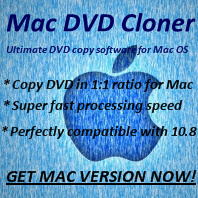 Q: What is DVD-5?
A: DVD-5 is an acronym that means a DVD disc that is one-sided single-layer disc and can contain up to 4.38 gigabytes of data on it.
DVD-5 is a single sided single layer DVD that stores up to about 4.7 GB = 4 700 000 000 bytes and that is 4.38 computer GigaBytes where 1 kilobyte is 1024 bytes(4 700 000 000B/1024 = about 4 589 843KB/1024 = about 4485MB/1024 = about 4.38GB)
Both Any DVD Cloner Platinum and Any DVD Cloner supports burning DVD5 to DVD5, copying DVD5 on hard drive as DVD Folder or ISO Image File.
Copyright © 2005-2022 DVDSmith Inc., All Rights Reserved.