About DVDSmith
Top Recommended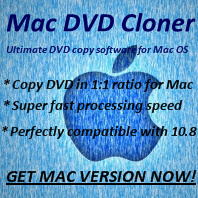 Q: How can I choose the burn engine?

A: Internal is the embedded burn engine with Any DVD Cloner software, while Microsoft IMAPI is the burn engine from Microsoft. Generally, Internal will be set as the default burn engine as it is more stable than Microsoft IMAPI. To some DVDs, some titles may not be detected perfectly with Microsoft IMAPI.
Moreover, some copied DVD may be played on PC smoothly but not on DVD player, please try to use a different burn engine to make DVD copy. The problem should be resolved successfully. Please note that changing a different burn engine cannot fix the problem that the copied DVD is not played on either PC or DVD player, please turn to our support team (support [at] dvdsmith.com (replace [at] as @ before sending message)) for advise by telling us below details:
1. Which program are you using to copy the DVD?
2. What's the DVD, it is a DVD9 or a DVD5?
3. Can the source DVD be played successfully on PC and DVD player?
4. Can the copied DVD be played either on PC or DVD player?
5. Any error during the copying process? If yes, what is it?
Copyright © 2005-2022 DVDSmith Inc., All Rights Reserved.