About DVDSmith
Top Recommended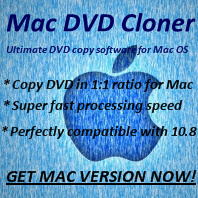 Q: What is DVD?
A: DVD is an optical disc storage format, invented and developed by Philips, Sony, Toshiba, and Panasonic in 1995. DVDs offer higher storage capacity than Compact Discs while having the same dimensions.
Pre-recorded DVDs are mass-produced using molding machines that physically stamp data onto the DVD. Such discs are known as DVD-ROM, because data can only be read and not written nor erased. Blank recordable DVD discs (DVD-R and DVD+R) can be recorded once using a DVD recorder and then function as a DVD-ROM. Rewritable DVDs (DVD-RW, DVD+RW, and DVD-RAM) can be recorded and erased multiple times.
DVDs are used in DVD-Video consumer digital video format and in DVD-Audio consumer digital audio format, as well as for authoring AVCHD discs. DVDs containing other types of information may be referred to as DVD data discs.
Any DVD Cloner, Any DVD Cloner Platinum, Any DVD Cloner Express are easy-to-use and powerful DVD backup software for differnt customers with various needs.
For example, just need to backup DVD on hard drive as DVD Folder, then watch the movie on PC with media player like VLC, KMPlayer, you can use DVDSmith Movie Backup Freeware: A Freeware to backup DVD to DVD Folder on hard drive;
Wanna clone DVD to blank DVD disc and copy DVD on hard drive as DVD Folder and ISO Image File, Any DVD Cloner is your best choice. It is aDVD cloner and DVD copier for encrypted DVD;
How about ripping DVD? Easy as long as you own Any DVD Cloner Platinum - all-in-one DVD cloner and DVD ripper.
Copyright © 2005-2022 DVDSmith Inc., All Rights Reserved.