All Products
About DVDSmith
Expert Recommend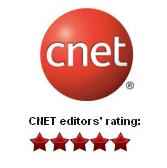 Popular Topics
Articles & Guides
DVD & Blu-ray VS. Streaming: Everything You Need to Know
As the streaming media is booming, the sales of Physical Medias have dropped significantly. According to the data from DEG and IHS Markit, the global sales of DVD, Blu-ray and UltraHD Blu-ray in 2014 were $25.2 billion, which fell to $13.1 billion in 2018, with a 50% decline, while the number of online streaming service (such as Netflix, Amazon and Hulu, etc.) paid users increased by 27%, reaching 611.3 million. What happened?
Declining DVD & Blu-Ray
Before there was even the normal Blu-ray on the market, the extremely popular DVD ruled. At that time, the switch from VHS cassettes to DVD was popular with customers: no rewinding, no sensitive magnetic tapes and significant space savings.
In 2007, Blu-ray technology came out with a breath of fresh air and higher screen resolution. However, the changeover was not easy. On one hand, Blu-ray itself is expensive. It costs up to $30 in the first few years, depending on the title. On the other hand, movie fans needed an HD TV and a Blu-ray player.
For more than a decade, the quality of Blu-rays is no longer sufficient. In 2009, the so-called 3D Blu-ray entered the market, promising greater immersion into the film world with the help of glasses corresponding to the TV set.
However, this innovation never really gained acceptance in homes of its own. 3D is much more popular in cinemas. Even if the annoying glasses were not warmly received by every viewer.
What followed was the Ultra HD Blu-ray. The 3D version is no longer supported here. Instead of the old-fashioned Full HD resolution, content can be shown in Ultra HD resolution, i.e. 3840 x 2160 pixels. Not "true" 4K, but it's something.
Further highlights are compatibility with Dolby Vision and HDR10. This requires an Ultra HD television that has an HDMI 2.0 interface to transmit the large amounts of data.
It's an inevitable trend that there would be a better service to meet people's need.
Rising Streaming Services
A few years later, Amazon, Netflix, Hulu & Co. offered an alternative and serious competition with streaming. Consequently, Blu-ray experienced a severe setback in February 2019.
Today, very few people visit video stores to rent films (and to then return them rewound). With streaming providers like Netflix, Amazon Prime Video, Hulu & Co. you can easily sign up for a monthly subscription.
The whole offer is already available in best quality (depending on the subscription model) at the push of a button. The only requirement here is a stable broadband connection.
Broadband Internet for streaming
For smooth streaming, different Internet speeds are required for different resolutions.
>> SD: (480p-576p) minimum 3 mbps
>> HD: (720p-1080p) minimum 5 mbps
>> 4K / Ultra HD: (2160p) minimum 25 mbps
Among the countless on-demand streaming services out there, three stand out: Netflix, Amazon Prime Video and Hulu.
Netflix
Pros:
* Excellent selection
* Optimized interface
* Good recommendation system
Cons:
* More expensive than other services
* Titles come and go frequently
* Limited brand-new content
Netflix offers unlimited streaming of TV shows, movies, comedy specials and original shows (including Orange Is the New Black, House of Cards and the fourth season of Arrested Development) for one monthly subscription fee. In terms of selection, quality and performance consistency, no other service has yet given Netflix an honest-to-goodness run. You can even create up to five different profiles on one account to make sure that your favorite content doesn't mess up recommendations from your friends and loved ones.
Amazon Video
Pros:
* Wide content selection
* Included with other Prime benefits
* Good original shows
Cons:
* Rarely gets brand-new videos
* Not available on some platforms
* A la carte content costs extra
For those who mostly do their shopping online, Amazon Prime is a good choice without doubt. For just $99 per year, you'll enjoy a free two-day delivery service, a free Kindle book each month, and unlimited access to Amazon Music and Amazon Prime Instant Video. Like Netflix, Amazon Video is a veritable buffet of movies, television and original programming, like Alpha House, Transparent and Mozart in the Jungle. Thanks to a deal with Viacom — which controls Comedy Central, MTV and Nickelodeon, Amazon Prime arguably has a better selection of comedy and children's programming than its competitors. The service also provides unrestricted access to a large collection from HBO's back catalog of classics (such as The Sopranos and The Wire). The separate Amazon Video provides easy access to current movies, but it's an à la carte service.
Hulu
Pros:
* Great selection of current TV
* Inexpensive
* Quality original programming
Cons:
* Frequent commercials
* Inconsistent selections from older TV seasons
* Cumbersome interface
If you want to learn about the latest TV shows but don't want to invest in a cable subscription or HD antenna, then Hulu is the best solution. This service has access to most major network shows (except CBS shows) and a small number of cable shows the day after the broadcast. Subscribers can also use this channel to access the current season of a show or often all seasons of the show. In addition, the service has hosted many original programs (including joint ventures with the BBC, like The Wrong Mans and season 4 of The Thick of It), a selection of non-mainstream movies and an amazing collection of classic anime series. Even with a paid subscription, you have to sit through commercials, but it's much less than watching the same show on a cable TV.
The days of having to tune in live or buy expensive discs to watch your favorite shows and movies are gone. Now, just boot up one of the best streaming services and watch your favorite movies and shows on demand.
DVD & Blu-ray VS. Streaming
Compared to DVD & Blu-ray, streaming service offers more selection of films and series at lower price while DVD and Blu-ray require no loading time when watching videos. Here we list the advantages and disadvantages of them in a nutshell: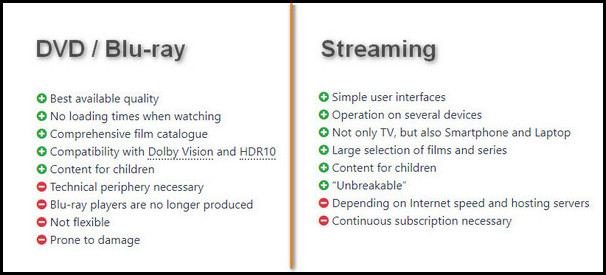 Streaming Tool in Trend - FlixiCam
As streaming videos got more and more popular, the multimedia tools are also going with the trend.
Any DVD Cloner Platinum, a powerful combination of DVD cloner and DVD ripper, was the best seller in the past. As a DVD cloner, it provides 4 flexible copying modes to copy, clone or compress DVD to DVD, DVD folder or ISO image. As a DVD ripper, it can convert any DVD to MP4, M4V, AVI, M2TS, HTML5 embedded video so that you can enjoy videos on popular devices.
Now there are all kinds of streaming video converters available in the market. And here we'd like to recommend a useful Netflix video downloader - FlixiCam, specially designed for downloading movies and TV shows from Netflix to computer, achieves great success. The highlights for FlixiCam is that it is able to download Netflix movies & TV shows with high quality at fast speed while keeping audio tracks and subtitles. Here are the key features of the program:
Netflix Video Downloader - FlixiCam
>> Download Netflix movies & TV shows with high quality.
>> Support downloading HD Netflix videos.
>> Convert Netflix videos at fast speed.
>> Keep audio tracks and subtitles.
>> Free updates & technical support.

Conclusion
For the time beings, it seems that streaming has won the battle in the home theatre business. But as we all know, there are always all kinds of limitations with streaming services. To enjoy streaming videos freely, you can turn to a reliable streaming video downloader.
If you'd like to download videos from Netflix, FlixiCam is a perfect choice. And we'll recommend more tools for you in the future, such as Amazon video downloader, Hulu downloader and so on.
Note: If you are a streaming music fans, you may be interested in the following tools: Apple Music Converter
Copyright © 2005-2023 DVDSmith Inc., All Rights Reserved.