About DVDSmith
Video Tutorial
Related Articles
Watch DVD Movies on Phablets Freely
Phablet is a portmanteau of the words phone and tablet. Phablets refer to consumer touch-screen devices with screens that are between five and seven inches. These devices combine the capabilities of a smartphone and mini tablet and hard to define it is a tablet or a smartphone — and occasionally incorporate a stylus. A phablet is larger than most smartphones, but not as large as a tablet or mini-tablet.
The first phablet was the Dell Streak released on June 4, 2010. Other notable examples include the Droid DNA, Samsung Galaxy Note and Note II, the LG Optimus Vu and Intuition, and the Micromax canvas2 A110 and A101.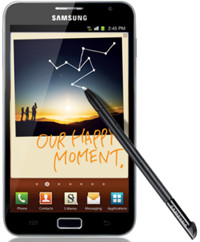 Big screen with cellphones is a trend especially touch-screen technology become more and more matured for Android and Windows phone 8 OS. When a smartphone is not small enough to put into a pocket but is not big enough to make it as a tablet, while combines with both features of tablets and smartphones, we would define it as Phablet. A significant phablet should be Samsung Galaxy Note, more phablets are released from Note since it is acceptable very well and very popular among public even it is too big to put into a pocket. On the other hand, people enjoy the big screen for wacthing videos and reading online. Different user experiences are brought to users. We believe that more powerful phablets will be releasd in 2013. Chinese telecommunications giants ZTE and Huawei will launch their own. Huawei brings out the Ascend Mate, sporting a whopping 6.1-inch screen, making it only slightly smaller than Amazon's Kindle Fire tablet. While ZTE, which collaborated with Italy's designer Stefano Giovannoni for the Nubia phablet, is scheduled to launch its 5-inch Grand S.
You are a big-screen phablet fan and wanna watch your favorite DVD movies with your phablet? Not a problem as long as you use Any DVD Cloner Platinum. Use this program to convert protected DVD movies to videos for playable on phablets. All can be done with a few clicks. Then you can wacth your favorite DVD movies with phablets comfortablely without the discs. Any DVD Cloner Platinum helps you to break all limits for watching amazing image quality from DVD to your phablets, no matter where you are.
How to use Any DVD Cloner Platinum to convert DVD to videos for phablets playback?
1. Download DVD to Phablet Converter - Any DVD Cloner Platinum and install it on your computer.
2. Launch the program and insert your movie DVD disc into DVD drive, click "Open DVD" to load DVD titles in the program.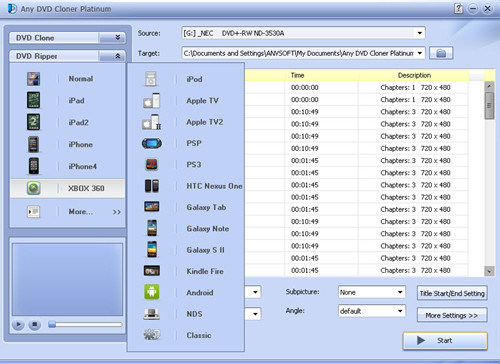 3. Go to "DVD Ripper" panel and choose "Normal" as output option. You will see output format is selected with "MP4".
4. Choose titles you like to convert to phablet.
5. Click "More Settings" to customize Video, Audio and Picture parameters, you can modify parameters here for perfect output video for your phablets.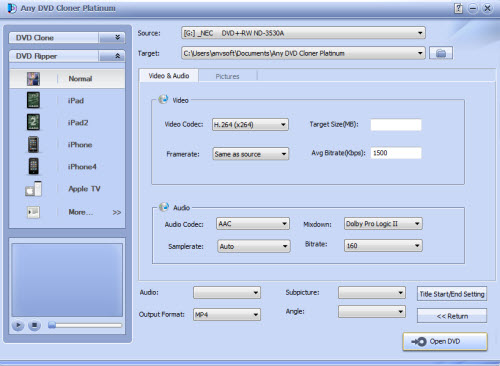 6. Click "Start" to make the conversion begin.
Wait for a while, the video will be generated successfully. Transfer it to your phablet and then you can watch the movie with phablet freely.
Copyright © 2005-2022 DVDSmith Inc., All Rights Reserved.