All Products
About DVDSmith
Expert Recommend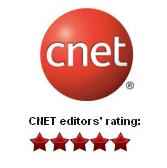 Popular Topics
Articles & Guides
Enjoy DVD movies on Microsoft Surface with DVD to Microsoft Surface Converter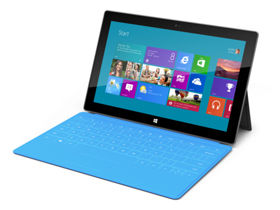 On June 19, 2012, Microsoft finally unveiled its Surface series Table PC. Surface will provide RT and Pro two different versions: standard RT will use Nvidia ARM CPU and runs Windows 8 applications.
DVD to Microsoft Surface Converter is popular worldwide and known for its easy to operate interface, fast speed in DVD copying and powerful functions. It provides 4 DVD copy modes, and can also rip any DVD to MP4, MKV, and M4V as well as rip DVD to MP4 videos for Microsoft Surface, iPod, iPhone, PSP, PS3, Xbox 360, etc.
Main features of DVD to Microsoft Surface Converter
1. Copy DVD to DVD, DVD to DVD folder, DVD to ISO Image file
2. Burn DVD to DVD, DVD folder to DVD, and ISO Image file to DVD
3. Shrink dual DVD-9 to single DVD-5
4. Convert DVD to MP4, MKV and M4V for playing back on Microsoft Surface, iPad, Samsung Galaxy Note, Kindle fire, etc
You can easily learn how to use Microsoft Surface Converter by the following steps:
Step 1. Download Motorola Xoom Converter and launch the program

Microsoft Surface Converter Windows version

Microsoft Surface Converter Mac version
Insert a DVD into DVD burner and lauch the program. then click "Open DVD" button to load the DVD. Click "Open DVD" button and the program will automatically analyze DVD structure.
Step 2: Choose the output folder
Choose output folder in "Target" , which is used to save the output video file for playback on Surface. You can keep windows default document folder or select DVD Folder from the drop-down list of the Target option to save the converted movie.
Step 3: Click DVD Ripper, and choose classic mode.
Keep the default output format MP4, which is supported by Microsoft Surface.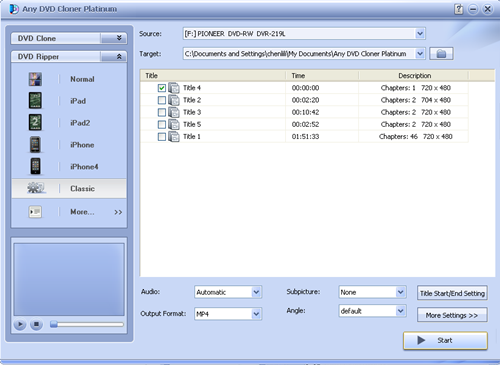 Step 4: Set up Output Options

Note: Users can freely choose Audio, Subpicture, Output Format, Title Start/End Setting, More Settings options to customize videos. The setting depends on the original DVD. The Output Options allow users to customize their DVD videos and make DVD videos more family-friendly.
Step 5: Click " Start " button to begin the ripping process.
After a while the ripping process will complete, then users can transfer the file to your Microsoft Surface and enjoy the movie!
Know more about Microsoft Surface:
Published on June 19th, 2012, Microsoft Surface series Table PC has two version: Standard RT version and Pro version. Microsoft Surface Pro is a full-functional shrink-version PC and use Intel third-generation Core i CPU. Except equipped with exquisite and user-friendly Touch cover which provides great convenience for users on typing.
An outstanding feature of Surface series also uses a 10.6-inch optically bonded Clear Type display. The screen's 16:9 aspect ratio (AR) is identical to that of an HDTV, so many of your favorite movies and all newer TV shows will run in full-screen on the tablet, with no stretching or letterboxing. This feature definitely makes Surface a great mobile DVD player. Users can enjoy a visual and andauditory feast of DVD movies.
Popular topics you may be interested in ...
How to rip DVD to various video formats - Any DVD Converter
How to clone Super 8 to blank DVD disc - Any DVD Cloner
How to backup DVD movies on hard drive for free - DVDSmith Movie Backup Freeware
How to watch DVD movies on Samsung Galaxy S2 - Any DVD Cloner Platinum
Copyright © 2005-2023 DVDSmith Inc., All Rights Reserved.