All Products
About DVDSmith
Expert Recommend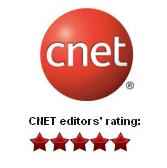 Popular Topics
Articles & Guides
DVD to Android Phone ripper - Any DVD Cloner Platinum
How to rip DVD movies to the latest Android Phones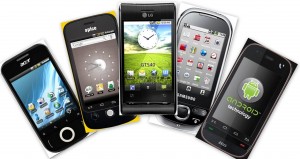 What is an Android Phone : The latest generation of mobile phones equipped with a brand new operating system that goes under the name Android is an Android Phone. Developed by Google Inc. and Android is the Android operating system revolutionary, that it allows open-source development. Diffenrent with previous cell phones which had a very rigid process for development applications, Android perfectly integrated phones with the Android operating system together. These applications are available through the Android Market and can be downloaded directly from the handset. Many of these applications, unlike traditional mobile applications, are available for free or a very low price.
What can a Android Phone do: Android phones have become popular because, unlike most other phones that have very strict rules for access, they are easy to manipulate, even by a consumer who is not very technically savvy. Phones with older versions of Android can be upgraded and a quick search on the Internet offers a variety of instructional walk-throughs on how to do this. Android phone can do almost anything you want, just for your dishes, they can even help you find a new dishwasher. Many different applications are recommended, and also a media player on your mobile phone into a complete entertainment machine, which activate both audio and video playback. If you are a person who is likely to be lost, a navigation system can be helpful app. Besides so many applications, you will also find apps on your phone in your daily routine to integrate. If you have a hard time to remember your shopping list, you type it into your phone and certain applications will remind you, as well as the display of the list when you arrive at the supermarket. The Android system and the phones that run it are powerful tools that allow the user almost unlimited possibilities.
Best Android phones are like Samsung Infuse 4G, Motorola Droid Bionic, HTC Thunderbolt 4G, Samsung Vibrant,etc.
Besides, the big screen and High Definision Video player in it also provide us great convenience to watch movies. The Android Phones are getting populr, and it will be great if we can enjoy our favorite movies anytime and anywhere!
Any DVD Cloner Platinum can easily make this posssible. With this DVD to Android Phone Ripper ,you can rip your favorite DVD movies to the latest Android Phone as easy as 123 and make your entertainment everywhere and anytime.
Click here to know more about MAC DVD to Android Phone Ripper
How to use DVD to Android Ripper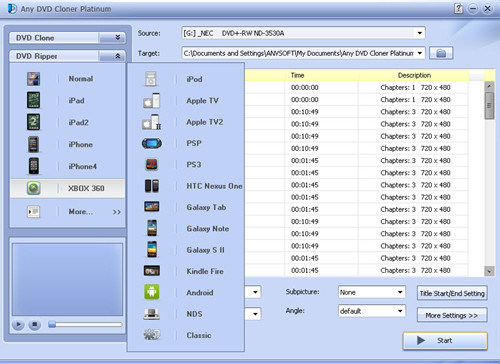 Ripping DVD movies to Android Phones with Any DVD Cloner Platinum only takes a few steps. It is easy from the first time.
Step 1: Insert DVD into DVD burner and launch DVD to Android Phone Ripper, Any DVD Cloner Platinum can recognize the your DVD burner path automatcailly, then click "Open DVD" button to load the DVD stucture.
Step 2: Go to "DVD Ripper":
Select "Classic" mode so .MP4 could be selected as the output format, which is supported by Android Phone.
Step 3: Click "More Settings" button to customize video and audio parameters.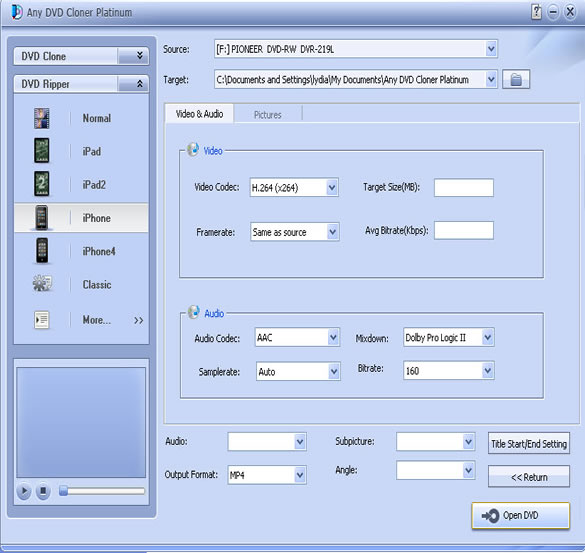 Step 4: Retun to DVD Ripper interface, and confirm MP4 is selected in "Output Format"
Note: MKV, MP4 and M4V also can be selected for playback on other portable players.
Step 5: Click "Start" to begin the ripping process.
Step 6: Transfer the MP4 video file to Android and enjoy the movie!
Note: The program will automatically replace the previous ripped movie with the newly ripped movie in the output folder. Thus, you need to manually transfer your converted movie to another folder once the program finishes ripping a DVD movie.
When the ripping finished, find out the video file in "Target" folder, then you can transfer DVD movie video to your portable devices such as mobile phone, MP4 player etc for playback, have fun anytime and anywhere!
Click here to view video tutorial.
Popular topics you may be interested in ...
How to rip DVD to various video formats - Any DVD Converter
How to clone Super 8 to blank DVD disc - Any DVD Cloner
How to backup DVD movies on hard drive for free - DVDSmith Movie Backup Freeware
Copyright © 2005-2023 DVDSmith Inc., All Rights Reserved.