About DVDSmith
Expert Recommend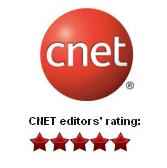 Popular Topics
Details for Despicable Me 2, Introduction, Release, Soundtrack etc.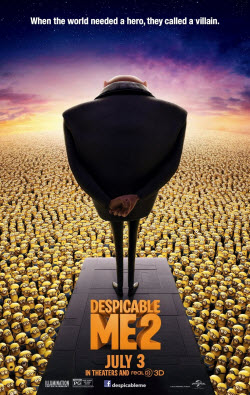 Do you still remember the lovely criminal who masterminds a moon steal plan but profoundly changed by the love of three orphans? He is coming back.
Yes, Gru is coming back. What will he bring to us in Despicable Me 2? Will he play the role of a loving father and enjoy the plain but happy family life? Or will he have some bigger plan with his yellow minions?
Introduction
While Gru, the ex-super villain is adjusting to family life and an attempted honest living in the jam business, a secret Arctic laboratory is stolen. The Anti-Villain League decides it needs an insider's help and recruits Gru in the investigation. Together with the eccentric AVL agent, Lucy Wilde, Gru concludes that his prime suspect is the presumed dead super villain, El Macho, whose teenage son is also making the moves on his eldest daughter, Margo. Seemingly blinded by his over protectiveness of his children and his growing mutual attraction to Lucy, Gru seems on the wrong track even as his minions are being quietly kidnapped en masse for some malevolent purpose. (Quoted from IMDb)
The sequel is very funny and enjoyable for a whole family. If you are looking for a family-friendly movie and heart-warming smile in an afternoon, it is a good choice to take them to watch the movie in cinema.
Quotes:
-Gru: Good night, Edith. [gives Edith a good night kiss]
Gru: Good night, Margo. [gives Margo a goodnight kiss, but returns]
Gru: Whoa, whoa, hold your horses. Who are you texting?
Margo: My friend Avery.
Gru: Avery! [confused]
Gru: Huh? Avery? Is that a girl's name or a boy's name?
Margo: Does it matter?
Gue: No. No, it doesn't matter unless it's a boy!
-Agnes: I know what makes you a boy.
Gru: [turns to Agnes] Uh... You do?
Agnes: Your bald head.
Gru: Oh, yes.
Agnes: [creates an imaginary line around the head of a confused Gru] It's really smooth. Sometimes I stare at it, I imagine a little chick popping out.
Agnes: [imitates a chick hatchling] Peep-peep-peep-peep.
Gru: Good night, Agnes. [gives Agnes a good night kiss]
Gru: Never get older.
-Gru: [to Dr. Nefario] Just because everybody hates it doesn't mean it's not good.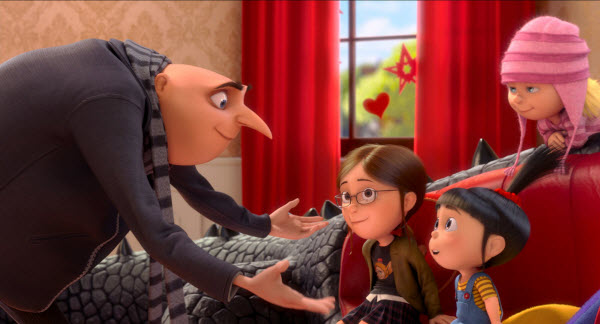 DVD Release Date:
estimated Nov 2013
Soundtracks:
I Swear - All 4 one

Y.M.C.A -The Village People
How to copy Despicable Me 2?
What Any DVD Cloner Platinum can do?
* Burn DVD to DVD, copy DVD to DVD folder or ISO Image File
* Customize DVD Structure to copy or shrink
* Shrink DVD-9 to DVD-5
* Rip DVD to MP4, MKV, M4V
* Remove all DVD copy protections
Clone / Copy Despicable Me 2 DVD to DVD / Hard Drive
As we all know, the movie DVDs are protected by the copy protections(CSS, RC, RCE, APS, UOPs and Sony ARccOS), and proteced DVDs can not be burned to blank DVD for backup directly. But with Any DVD Cloner Platinum, the powerful DVD cloner software, you can clone Despicable Me 2 DVD easily in 1:1 ratio.
Download the latest version - Any DVD Cloner Platinum
Click here for Any DVD Cloner Platinum Mac - Easy to copy / burn / rip DVD movies on Mac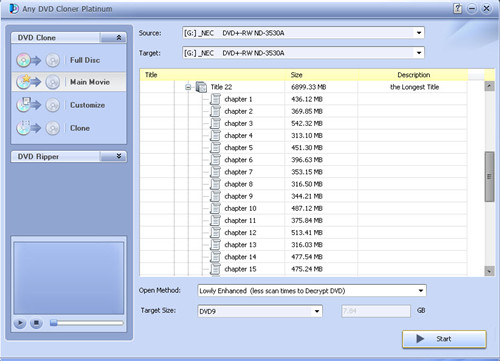 It takes 3 steps to clone Despicable Me 2 DVD to blank DVD disc with Any DVD Cloner Platinum.
Step 1: Insert the source DVD into DVD burner and launch Any DVD Cloner Platinum, the powerful DVD cloner software can read the DVD automatcailly.
Then Choose Open Method


* Normal (for Unencrypted and CSS Encrypted DVD)
* Lowly Enhanced (less scan times to decrypt DVD)
* Highly Enhanced (more scan times to Decrypt DVD)
Note: It's recommended to use Lowly Enhanced or Highly Enhanced Open Method which may help you to find the exact real main movie title from a list of potential fake titles in some latest DVD movies.
Click

Step 2: Select "Target":



ISO Image File: this option will create ISO image file on hard disk;
DVD Folder: this option will backup DVD to local hard disk as folder;
Source DVD drive: if you want to clone The Artist to a blank DVD disc with only one DVD burner, select the same as "Source" - your DVD burner.
Step 3: Click

to start
Copyright © 2005-2022 DVDSmith Inc., All Rights Reserved.