About DVDSmith
Expert Recommend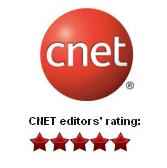 Popular Topics
Top 10 best horror movies
How to copy / rip top 10 best horror movies - Let the Right One In with DVD Cloner Platinum
Let the Right One In - Rip Let the Right One In with a few clicks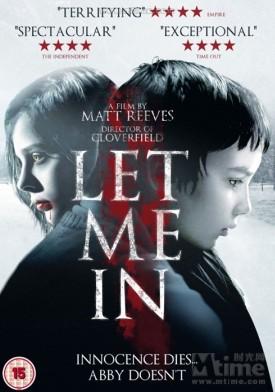 Story line:In an often snow town, there was a dusky lonely apartment, young Owen and his divorced mother lived here. Owen was a lonely twelve-year-old boy who was timid, overcautious and often got bullied. One night, beautiful and mysterious young girl Abby moved in and became his neighborhood, the two distinctive temperament children gradually attracted to each other, and became good friends. At the same time, murder happened one after another in this small town, Owen is also happened to find Abby's incredible secret.
The film was adapted according to John Ajvide Lindqvist' novel, and there were two versions, one is Swedish and the other is American. And different versions had distinct features. In the American version, the two young leading artists' performance was really convincing, especially the little girl acted by Chloe Moretz. In the film, she showd the sophisticated maturity and cold-blooded after went through all the vicissitudes of life. It's very hard for you to believe that this is an only 13 year-old girl' performance.
Let the right one in can be regarded as a beautiful, moving vampire classic about innocence lost love with a horror aesthetic, but it also arouses people' thought about samsara and eternity. It is really a great horror movie worth backing up.
The new technology provides us more convenience to appreciate and enjoy this great movie. Many mobile devices such as iPad, Nokia Lumia 900, Samsung Galaxy S2, iPhone, etc. are great mobile DVD player. With the help of a magic DVD converter, you can easily get this great work done!
Features of Any DVD Cloner Platinum
Any DVD Cloner Platinum is a all in one DVD Cloner, DVD copier,DVD ripper and DVD shrinker. It is popular worldwide and known for its power and flexibility. It's main features are as following:
* Remove all DVD copy protections
* Copy DVD to DVD folder or ISO Image File, burn DVD to DVD
* Customize DVD Structure to copy or shrink
* Rip and convert DVD to MP4, MKV, M4V
Click here for Any DVD Cloner Platinum Mac - Easy to copy / burn / rip DVD movies on Mac
Step of ripping Let the right one in for playing on iPad/iPhone/Nokia Lumia 900?
Rip Let the right one in to mobile devices to watch would be a more exciting experience. Any DVD Cloner Platinum can help you to enjoy it whenever and wherever as you like!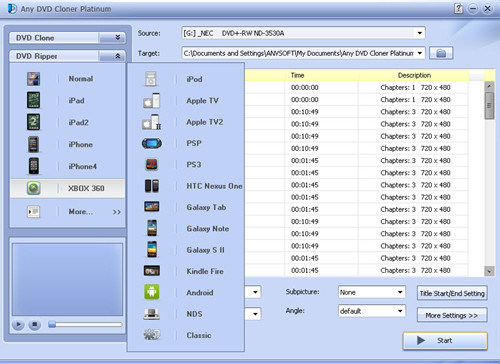 Step 1: Choose DVD Ripping mode and Open DVD.
More than 10 popular portable devices such as Samsung Galaxy Note, Samsung Galaxy S2, ipad, Apple TV, etc are listed for users to select, you can freely choose one as your like. You can also keep the default setting.
Step 2: Choose Output Folder
Output folder in "Target" , which is used to save the output video file You can use windows default document folder. Or, select DVD Folder from the drop-down list of the Target option, and browse a folder to save the converted movie.
Step 3: Click

button to begin the copying process
Click here for more detailed video tutorials!
Copyright © 2005-2022 DVDSmith Inc., All Rights Reserved.