About DVDSmith
Expert Recommend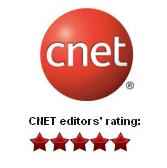 Hot Devices
Popular Topics
Have Fun in Watching Movie DVD on Sony Xperia Z2
What is Sony Xperia Z2?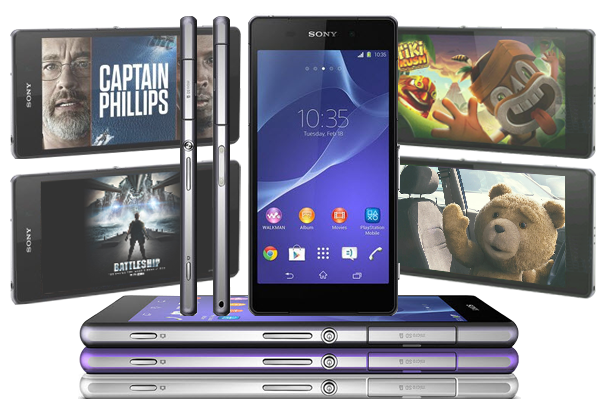 Sony officially unveiled its latest flagship smartphone — Sony Xperia Z2 at MWC in this February. Your first sight of the Xperia Z2 is definitely impressive by its simple elegant body design, 5.2 inch full HD (1080P) display, waterproof and
dust-resistant chassis, powerful quad-core processor and high-end 20.7MP camera, which takes your fancy that you want
to bring it home immediately.
Perhaps the biggest surprise is that Sony Xperia Z2 provides 4K# video recording. It means that users can experience watching movies with a resolution better than television or computer. The visual treat in world class would surely make
you cannot help turning out all favorite movie DVDs to enjoy them on this smartphone. Is there any way to complete it? Any DVD Cloner Platinum is able to convert any movie DVD to video for watching on Sony Xperia Z2 with 4K resolution.

How to use Any DVD Cloner Platinum rip movie DVDs for playback on Sony Xperia Z2?
Step 1: Download and install Any DVD Cloner Platinum
Platform: Windows XP, Vista, Windows 7 & Windows 8.
Note: For Mac OS users, please download Any DVD Cloner Platinum for Mac.
Step 2: Launch Sony Xperia Z2 DVD Converter
When you insert a movie DVD disc, Xperia Z2 DVD Converter will automatically analyze its structure and will recognize the longest title containing the complete movie after a while.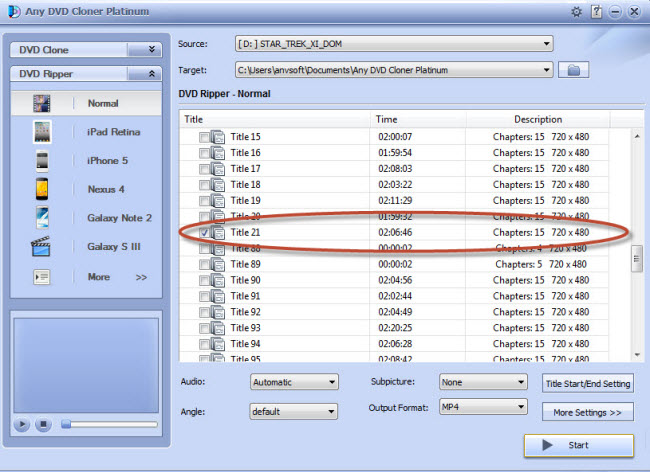 Step 3: Set output profile
It is suggest to click "More" tag to choose "Sony Ericsson Xperia" as the output format in the popup dialogue box; or you can choose "Normal" ripping mode directly.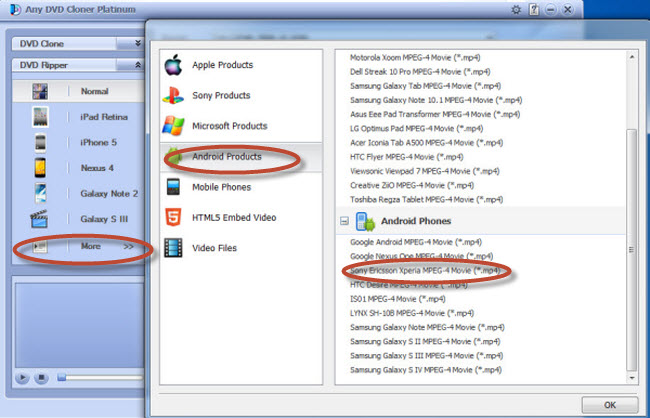 Step 4: Customize output video file (optional)
If you want to only convert some specific chapters, please click "Title Start/End Setting" tag in the bottom right corner of the converter main interface to set it.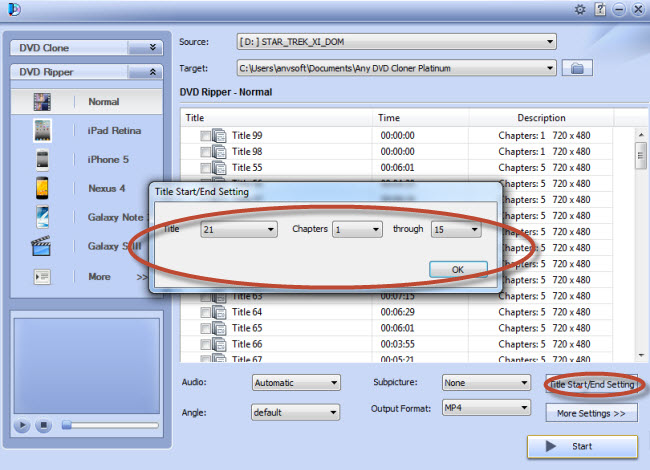 Step 5: Start to convert movie DVD with Xperia Z2 DVD Converter
Click "Start" tag and the process bar will reveal its conversion status. When it finishes, you will find the output video in the target folder, which can be enjoyed on Sony Xperia Z2 freely.
Get more information about 4K Resolution Video:
4K resolution is a generic term for display devices or content having horizontal resolution on the order of 4,000 pixels. Several 4K resolutions exist in the fields of digital television and digital cinematography. In the movie projection industry, Digital Cinema Initiatives (DCI) is the dominant 4K standard.
4K has become the common consumer friendly name for UHDTV but technically it is not 4K. Consumer 4K resolution of 3840 x 2160 (at a 16:9, or 1.78:1 aspect ratio) differs from the industry standard of 4096 x 2160 (at a 1.9:1 aspect ratio).
——Wikipedia
* Steps to Convert DVDs for Playback on Sony PS4?
* Is It Possible to Enjoy Movies Converted from DVD Discs on Your Samsung Galaxy S5?
* How to Watch DVD on Microsoft Xbox One?
Copyright © 2005-2023 DVDSmith Inc., All Rights Reserved.